New version ready. When I get a good place to host it, I will update this again. Will update this thread accordingly. In the meantime, use
http://web.unbc.ca/~derksons/mapping/co_nadir.zip
Just extract to your ns directory.
Changelog - version 2.a8.bh1:
-Moved marine start UP one more floor to alleviate aliens being healed in the marine spawn.
-Re-arranged hive. Stupid little walls gone, you have to actually be inside the hiveroom to shoot it now. Spawncamping is still possible, but at least now there it's a bit trickier I imagine.
-Another vent in the hive room.
-Faster elevators... but they now have to travel farther so... yeah... not much difference there in the end anyway. :p
-Detail changes here and there. Tweaked this and that.
To-do list:
- Currently too square. Needs better textures.
- Need to get a bunch of people to remake it for me, so that it can come back more colourful and optimised. Plan to accidently format my harddrive the day after I release this map.
- The staircase is being compiled in a screwed up way (use gl_wireframe 1 in developer mode to see this.) I have given up on this bug and plan to rebuild it from scratch if I ever work on this map again. It causes higher than needed r_speeds and therefore lacks the detail I would like to give it.
- Possible balance issues. Should be better now though.
- Some r_speeds are higher than I like, though they should only touch 700 in some places.
- Texture optimization is complete from previous version. I am now using two more textures than before! Yay for ass-backwardsness!
- There are reports of space skulks. BEWARE!
Here's some pic's: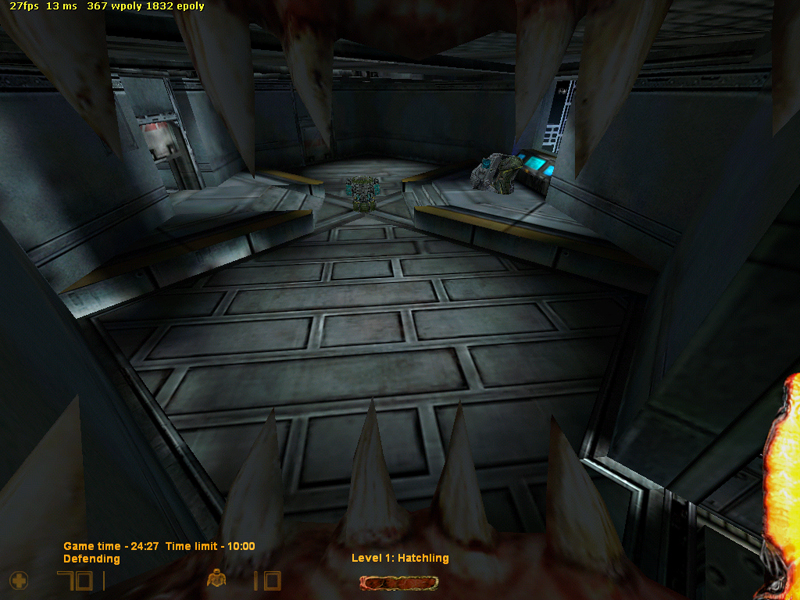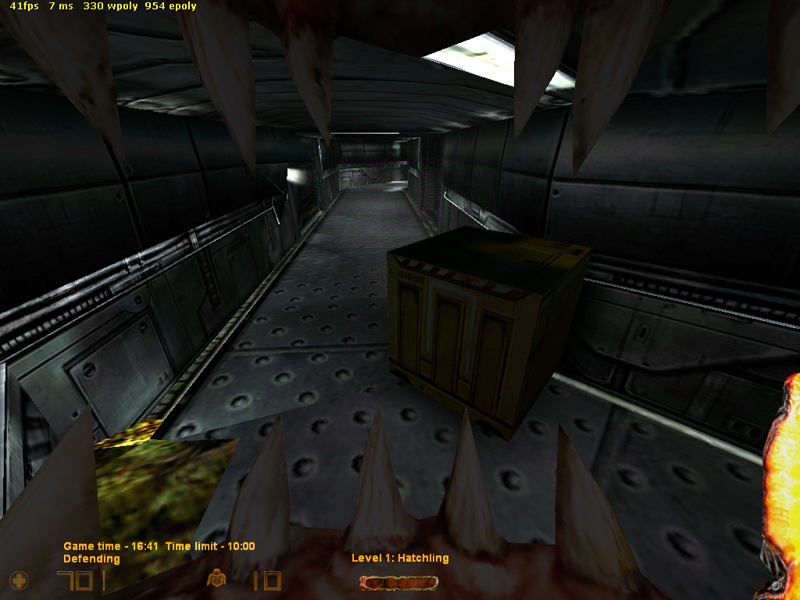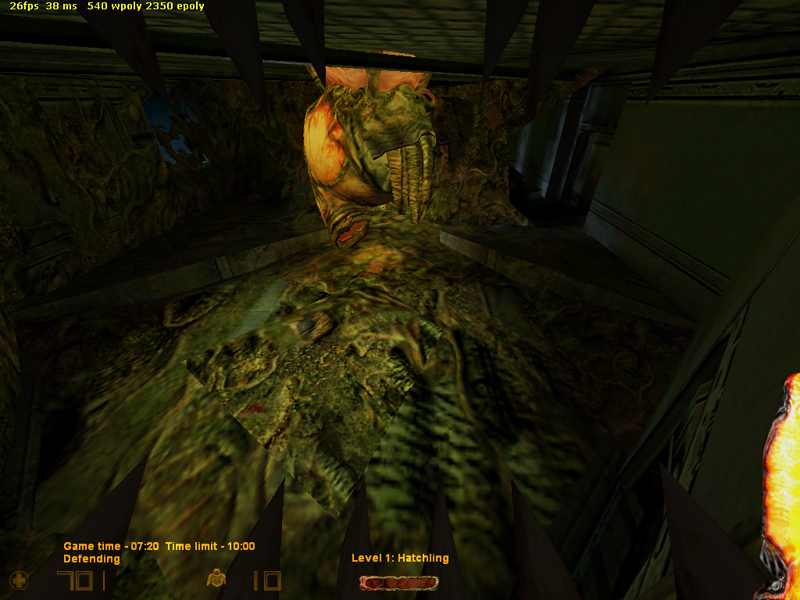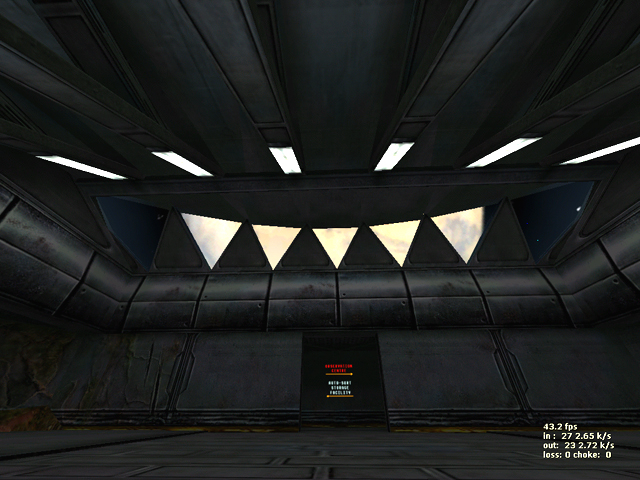 Suggestions? Comments? Complaints? Bugs?
BACKSTORY:

Nadir Station is an old cargo and research facility. It was built by Azimuth Co. in part of an ongoing research project to monitor a black hole. It is part of a communications array set up so that the main base of operations (Azimuth Base) in the project (opposite side of the black hole from Nadir) can always communicate to the rest of the galaxy, no matter which part of the orbit it is in. This array is needed simply because black holes consume everything, including radio transmissions. While the side relay stations are simply large, unmannable satellites, Nadir was also built for research purposes. It allowed scientists to study the black hole as it evolved from boths sides concurrently.

After 50 years of research, Nadir came into disuse, so Azimuth Co. decided to make it a small cargo storage facility for the companies more "prized" research. It continues some of its original purpose, as a relay station and observation center, but most of it's once capable technology has been stripped and sold.


YOUR MISSION:

Recently, one of the containers containing a sample of an alien bacterium was dropped, infecting the station. While 90% of the facility was locked down, the final 10% has become infested. Not long after the evacuation, the station started wandering out of orbit. Fortunately, control was regained, but now is in a new orbit much closer to the black hole, to top it off, it is now in parallel orbit with a small, moon-size planet. This combination has caused a gravitational tug of war on the vessel and the stress is causing it to fall apart. It is predicted stable for only a small period of time. Normally, this craft would be deemed to its doom, but Azimuth Co. has pulled some strings in the TSA and apparently some cargo of extreme value to the company is inside. Azimuth Co. needs the TSA to neutralize the Kharra threat as quickley as possible so their team can recover the valued containers and leave. The marines shall board the ship via a safe airlock 4 decks above where the alien threat is believed to have their hive. The elevator system, like much of the ship, is dysfunctional and is to be used at your own risk. Your commander will provide only the neccessities on a per-need basis. Good luck!